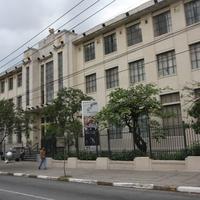 Address
University:
Universidade de São Paulo, Brazil
Department:
Serviço de Invertebrados - Entomologia
Street:
Avenida Nazaré, 481 - Ipiranga
Contact
Contact:
Prof. Dr. Marcelo Duarte, invertebrate curator
Collection details
Phthiraptera collection:
The card index of the Phthiraptera collection held in the Museu de Zoologia da Universidade de São Paulo, Brazil (MZUSP) comprises about 1,719 entries relating to specimens from many hosts around the world (e.g. Africa, Europe, Asia, Oceania and the Americas), which are either slide-mounted (72% of them) or preserved in alcohol (28%). This collection originated in the mid-1940's through the efforts of Lindolpho Rocha Guimarães (1908‑1998), a prominent Brazilian ectoparasitologist. This collection include types of more than 140 nominal species of Phthiraptera (Valim, 2009).
Below an example of the cards and slides present in the collection of Phthiraptera at MZUSP . Photo: Esthiopterum constrictiventris Pessôa & Guimarães, 1935, holotype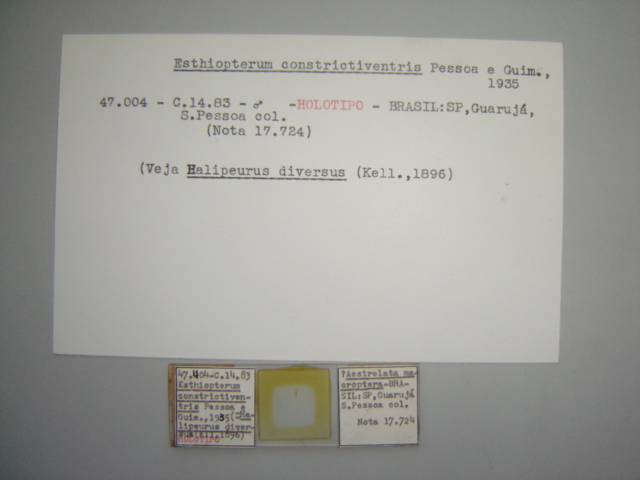 ---
The list of types held at MZUSP was published in Papéis Avulsos de Zoologia at http://www.scielo.br/pdf/paz/v49n17/v49n17.pdf
VALIM, M. P. 2009. Type specimens of lice (Insecta: Phthiraptera) held in the Museu de Zoologia da Universidade de São Paulo, Brazil. Pap. Avulsos Zool., São Paulo, 49(17): 197-219.
Systematic coverage:
Phthiraptera (Amblycera, Ischnocera and Anoplura), Siphonaptera, Diptera (Hippoboscidae, Streblidae, Nycteribiidae), Coleoptera (Staphylinidae). All with types.
Host coverage:
Most part is composed by Brazilian bird species, but few mammals also are present. Due the exchange of specimens with researchers worldwide some hosts exotic to Brazilian fauna are present, these are always birds.
Geographical coverage:
Chiefly composed by sample collected in Brazil, most part in a spirit collection. Due the exchange of specimens there are slide-mounted specimens from all continents.